Boost your results by adding one or more of our powerful Beauty Boosters.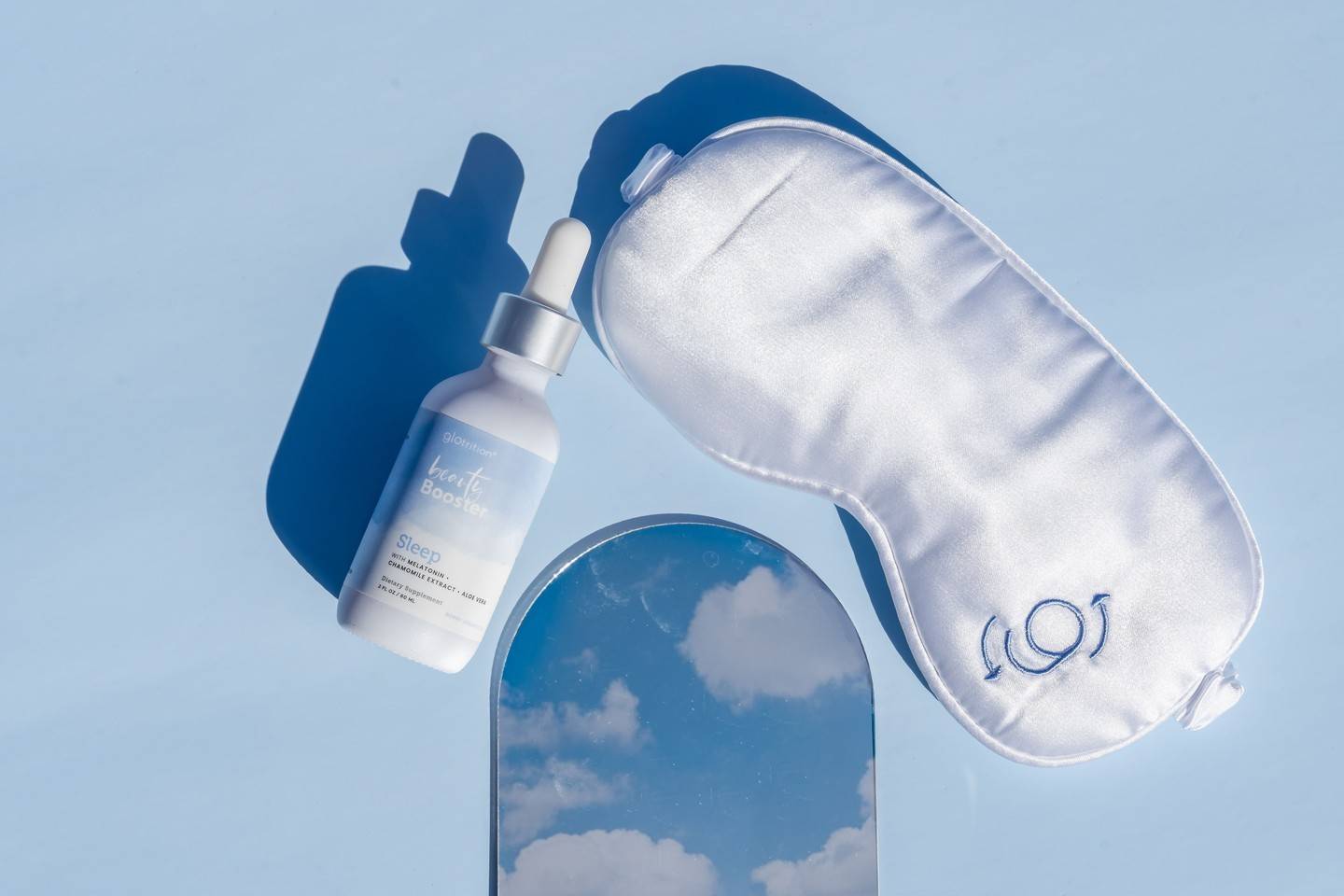 SLEEP contains high-quality melatonin, selenium and chamomile to help you fall into a deep, restful "beauty sleep". Skin-loving vitamins C, D and E join forces to boost overnight skin renewal. This targeted blend also contains aloe vera gel powder to help maintain skin health. Built on a foundation of select antioxidant-rich fruit powders, SLEEP is your ultimate multi-tasking beauty supplement.
Melatonin:
A well-known natural sleep aid, melatonin is a hormone naturally produced by your body in response to darkness. In a world full of electronic blue light, melatonin supplementation is often used to help the body stay on a natural sleep/wake cycle.
Aloe Sterols:
Found in the gel of the Aloe Vera plant, aloe sterols have been clinically studied and proven in micro-doses to stimulate collagen and hyaluronic acid production and significantly reduce the appearance of fine lines and wrinkles when used as a dietary supplement.
Vitamin C:
Vitamin C is an essential skin repair vitamin and plays a vital role in the body's natural collagen synthesis. Low levels of Vitamin C have been linked to poor sleep quality too.
Vitamin D3:
Known to improve cellular turnover, Vitamin D3 is essential for overnight skin repair. Low levels of Vitamin D have also been linked to poor sleep quality and reduced sleep duration.
Vitamin E:
Vitamin E is a fat-soluble, essential nutrient with anti-inflammatory properties. Vitamin E helps support the immune system, cell function, and skin health. Vitamin E has also been shown in studies to improve sleep quality.
Vitamin C (as Ascorbic Acid) Vitamin D3 (as Cholecalciferol) Vitamin E (as D-alpha Tocopheryl Succinate) Selenium (as Selenium Amino Acid Complex), Melatonin, Chamomile Extract (Matricaria Chamomilla), Aloe Vera Gel Powder (Aloe Barbadensis), Acerola Cherry Extract (Malpighia Glabra), Blueberry Fruit Powder (Vaccinium Corymbosum), Pomegranate Fruit Powder (Punica Granatum), Raspberry Fruit Powder (Rubus Idaeus), Purified Water, Natural Flavors, Malic Acid (Natural Acidity Regulator), Fruit and Vegetable Juice (Color), Xanthan Gum (Natural Thickener), Potassium Sorbate and Sodium Benzoate (To Maintain Freshness), Monk Fruit Extract (Natural Sweetener)
Restore is a highly effective and highly concentrated liquid dietary supplement. It contains a plant-based ceramide that acts as a high-performance anti-aging shield. This patented ceramide is clinically proven to strengthen the lipid barrier, reduce wrinkles and increase skin hydration in just 4 weeks. Each daily dose of 2ml provides the clinically effective dose of ceramides. This powerful blend also includes a specifically chosen group of antioxidant-rich fruit powders, proven to aid in skin health and overall immunity.
CERAMOSIDES® PHYTOCERAMIDES
Plant-based and clinically proven, these ceramides are rich in omega 3, 6 and 9 and moisturize and protect the skin from losing its elasticity and firmness. Pores are tightened and skin texture is visibly refined. This unique patented complex is naturally biomimetic for perfect skin.
High performance: At very low dose (30mg), the structure of the dermis is strengthened (protecting the skin's elasticity and firmness).
Highly tightening: Pores are tightened and skin texture is visibly refined.
Skin shield: The skin is protected from premature aging caused by environmental stresses.
Instant and long- lasting hydration: The ceramides strengthen the skin's barrier function to counter Transepidermal Water Loss (TEWL).

VITAMIN C
Vitamin C is a potent antioxidant and a giant when it comes to skin health. Vitamin C is necessary to help in the process of building collagen.


GOJI BERRY
This ancient berry is a nutritious powerhouse, especially when it comes to your skin! It's known to promote collagen and elastin production, reduce hyperpigmentation and protect against free radical damage.


MAQUI BERRY
Widely considered the most powerful antioxidant in the world, maqui berry has an incredible ability to nourish skin cells, protect from environmental aggressors, and reduce inflammation.


BLACK ELDERBERRY
Known to protect and strengthen the immune system, elderberry contains high amounts of vitamin A which can also prevent and reduce the appearance of wrinkles.
Reverse Osmosis Purified Water, Ascorbic Acid (as ascorbic acid and Acerola cherry), Ceramosides® Phytoceramide Extract (Triticum Vulgare Seed), Blueberry Juice Extract, Maqui Berry (Aristotelia Chilensis) Extract, Tart Cherry Extract, Resveratrol (as 98% pure Resveratrol from natural fermentation), Elderberry (Sambucus Nigra) Extract, Goji Berry Extract, Glycerin, Natural Flavors, Citrus Extract.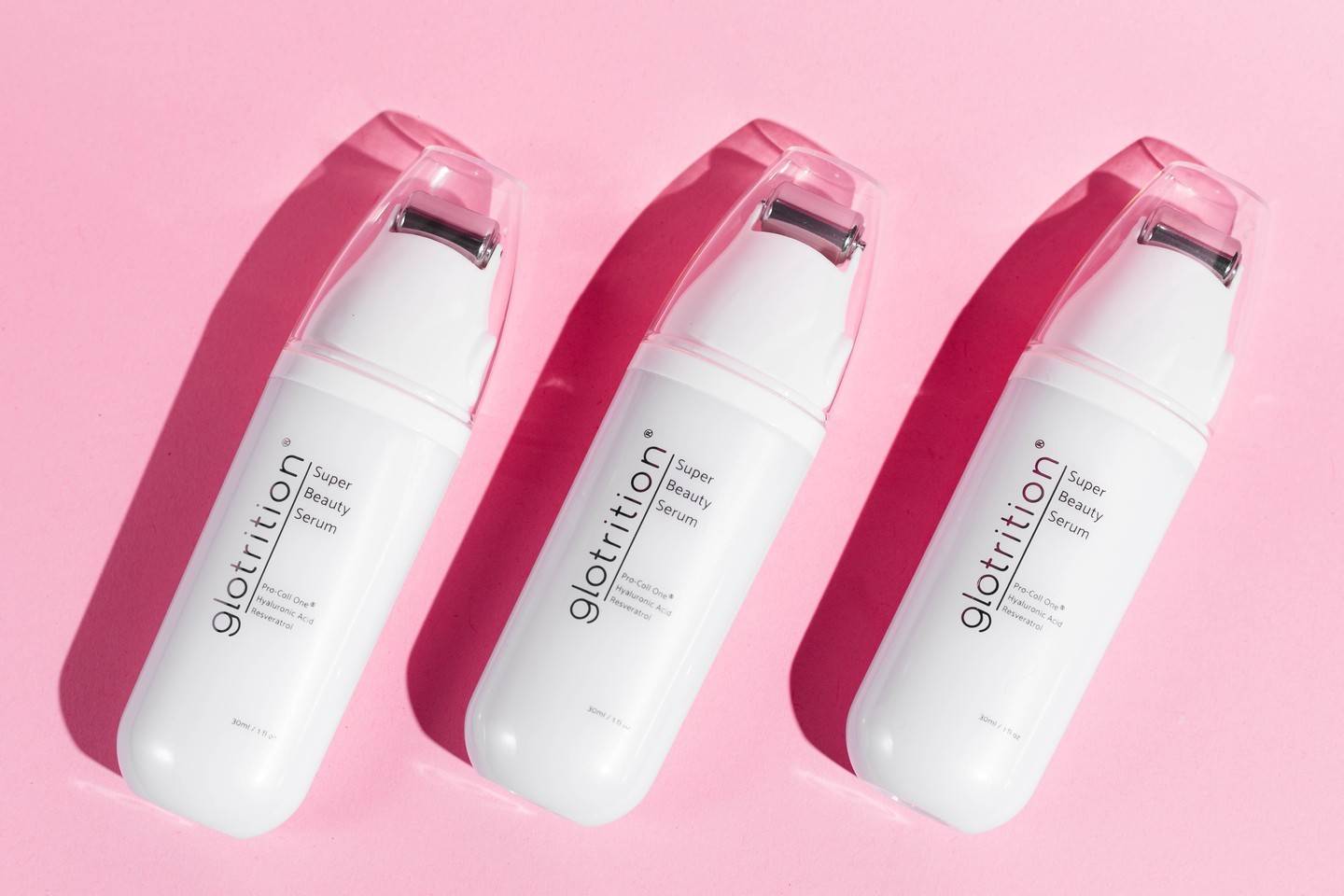 A soothing cool touch facial roller meets our line erasing serum in this game-changing hybrid product. Reduce inflammation, contour, and increase circulation while pushing active ingredients deeper into the epidermis. Clinically proven to visibly smooth skin and increase elasticity by nearly 20%. Skin firmness is noticeably increased while fine lines and wrinkles are dramatically decreased. You'll experience an immediate lifting and smoothing effect that lasts throughout the day with results that get better and better over time.
PRO-COLL-ONE+™
A clinically studied pro-collagen concentrate that boosts collagen I synthesis, smooths surface micro-relief; significantly reducing roughness, and reduces the appearance of crow's feet wrinkles. Contains highly purified glycopeptides from soybean fiber.
TR HYALURONIC ACID
Clinically proven to hold up to 10,000 times its weight in water, Hyaluronic Acid appears naturally in the skin and is imperative for skin moisturizing. Like Collagen, levels decrease as we age. Super Beauty Serum helps increase skin moisture and maintain levels throughout the day with a time-released HA formula.
OLIGOSACCHARIDES
Sourced from Chicory Root, oligosaccharides have been shown to increase collagen synthesis and immediately tighten and lift skin with stronger effects over time.
PATENTED 4 IN 1 PEPTIDE BLEND
Stimulates epidermal renewal and collagen synthesis, resulting in skin firming and reduction in the appearance of wrinkles.
RESVERATROL
A powerful antioxidant that helps defend the skin against free radical damage, the leading cause of aging.
Aloe Barbadensis Leaf Juice, Aqua/water/eau, Cichorium Intybus (chicory/chicoree) Root Extract, Coco-caprylate/-caprate, Glycerin, Simmondsia Chinensis (jojoba) Seed Oil, Mangifera Indica (mango/mangue) Seed Butter, Sclerotium Gum, Cetearyl Alcohol, Panthenol, Stearic Acid, C14-22 Alcohols, Cetyl Esters, Kappaphycus Alvarezii Extract, Xanthan Gum, Ethylhexylglycerin, Cetearyl Glucoside, Decyl Glucoside, Tropaeolum Majus Flower/leaf/stem Extract, Hydrolyzed Soy Protein, C12-20 Alkyl Glucoside, Caesalpinia Spinosa Gum, Dunaliella Salina Extract, Gluconolactone, Citric Acid, Palmitoyl Tripeptide-5, Sodium Hyaluronate, Pichia/resveratrol Ferment Extract, Carrageenan, Pantolactone, Calcium Gluconate, Sea Salt, Phenoxyethanol, Sodium Benzoate, Potassium Sorbate.